Disaster Preparation for Pets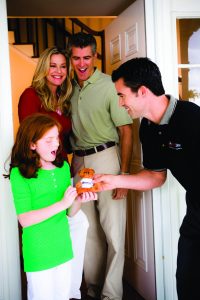 One of the best ways to protect your family in a disaster such as flood damage is by having a good disaster plan, and that plan should include your pet. After many disasters, thousands of pets are left to fend for themselves, and many are lost, injured or even killed. To keep this from happening to your pet, consider the following.
Make a disaster kit for your pet. Just as you should have a disaster kit for your family in case of water damage caused by a flood or other disaster, containing important papers and other key items, you should prepare a similar kit for your pets. It should contain the following:
Medication and medical records (including proof of rabies vaccination) in a waterproof container.
Leashes, harnesses and carriers for transporting pets.
A muzzle if your pet requires one. Consider a muzzle even if you have a gentle friendly dog. Even the friendliest dog will snap or bite during the extreme distress of a disaster, especially in a new area and/or if the dog believes it is protecting you.
Food and water for three days along with a manual can opener.
Cat litter and litter box.
Current photo and description of your pet in case you become separated.
Name and phone number of your veterinarian.
Insurance company contact information and policy number, if you have pet insurance.
Find A Safe Place Ahead Of Time
Contact hotels and motels outside your immediate area to check policies on accepting pets.
Make a list of boarding facilities and veterinarians outside your area that might be able to shelter pets in an emergency. Include emergency phone numbers.
Ask your local Humane Society or emergency management agency for information regarding community disaster response plans which might include pets.
In the event you are not home when disaster strikes, make advance arrangements to have a friend pick up your pet and meet you at a specified location.
Make sure your friend knows where your Pet Emergency Kit is located!
If You Evacuate, Take Your Pets
Be prepared to leave early. Don't wait for an official evacuation, as you might be ordered to leave your pets behind.
Keep pets on leashes or in carriers at all times.
Your pet should wear up-to-date identification at all times. Consider including your cell phone number, AND the phone number of a friend outside of the area, in case you cannot be reached.
If you must evacuate and, for some reason, cannot take your pets, do not just leave your animals behind. Evacuate them to a prearranged safe location if they cannot stay with you during the evacuation period (remember, pets are not allowed in Red Cross shelters). If there is a possibility that disaster may strike while you are out of the house, there are precautions you can take to increase your pets' chances of survival, but they are not a substitute for evacuating with your pets.
After The Storm
Once you return to your home, don't allow your pets to roam loose. Familiar landmarks and smells might be gone, and your pet may be disoriented. Pets can easily get lost in these situations.
Be patient. Try to get your pets back into their normal routines as soon as possible, and be on the
lookout for stress-related behavioral problems – if these persist, talk to your veterinarian.
When you or a pet are injured, you really appreciate a Paramedic being on the scene. When someone experiences property damage, they really appreciate the arrival of PuroClean Certified Restoration because we are The Paramedics of Property Damage.